Thomas C. Hebrank
Principal
Mr. Hebrank is a Certified Public Accountant with 40 years of experience in the financial industry. His workout experience began with the financial crisis and RTC workouts of the early 1990's and continued on for the past 20 years serving as a receiver, trustee, forensic accountant, chief restructuring officer, provisional director, assignee, liquidating trustee/agent, and other workout situation roles. Mr. Hebrank has served as a Director on the San Diego Receivers Forum as well as the San Diego Bankruptcy Forum.
Mr. Hebrank has served as a court-appointed receiver on numerous state and federal equity receivership and bankruptcy cases. His primary focus has been on operating companies which have included investment firms, assisted living facilities, transportation and manufacturing companies, entertainment and hospitality operations, night clubs, technology and electronics companies, and many more. In addition, he has worked on real estate projects, including condominium conversions, single-family residential developments, multi-family apartment complexes, high-rise office towers, hotels, and country clubs. His federal equity receivership cases have involved life settlement/viatical insurance policies, real estate, and other investments. He has served as a Chapter 11 bankruptcy trustee and in other bankruptcy roles overseeing, managing, and/or liquidating several large bankruptcy cases, including a Ponzi scheme/development company, a commercial real estate portfolio, an insurance and investment firm, a large recreational property, and an electronics distributor.
Finally, he has also managed and completed various forensic accounting projects, including those associated with SEC Ponzi schemes and investment frauds, settlement of partnership disputes, determination of investments by and distributions to various parties, and interpretation and application of the financial terms of purchase and sale agreements.
In addition to his direct professional experience, he is also a strong believer in community service. Recently, Mr. Hebrank was selected by a panel of retired judges to serve on the City of San Diego's 2020 Redistricting Commission, where his fellow commissioners voted him as Chairman. Mr. Hebrank also serves on the San Diego Ethics Commission and as a Trustee on the San Diego County Employees Retirement Association. His previous local involvement included serving for 8+ years on the City of San Diego's Audit Committee, serving as Chairman of the Kensington Talmadge Planning Group, as well as stepping into the role of President of the San Diego City Employee's Retirement System (the Pension Board) during a very tumultuous time in San Diego's history. In this role, he assisted in reforming and turning around an organization that had become the symbol of San Diego's financial crisis. Mr. Hebrank was honored by having a day declared in his honor by the City of San Diego, recognizing his commitment to community service and the betterment of the City of San Diego.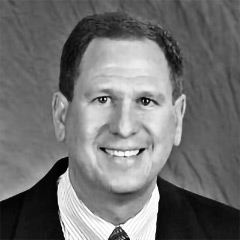 Thomas C. Hebrank
Principal